Men's groups in Melbourne - supportive peer led circles for men
Open iGroups
The Mankind Project hosts several men's groups in and around Melbourne which are open to guests and new participants.  These are safe spaces where men gather to provide support and work on issues in their lives.  There are no prerequisites to attending - all you need is a willingness to examine how you are leading your life as a man.  Men benefit from peer group support through facilitated process work which empowers men to lead the lives they choose.
In Melbourne, the Mankind Project has regular open groups which meet in Gardenvale (south -east melbourne) and Fitzroy (mid north Melbourne). In addition, groups which meet in Coburg, Mornington and Upwey accept visitors by request.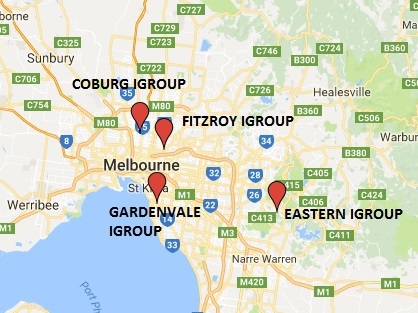 Men's support groups are an invaluable part of life for the men who attend.
In addition to open groups, the Mankind Project Victoria holds annual New Warrior Training Weekends. For men who have completed this weekend, closed iGroups and further trainings are also offered.
Contact us to find out more.
Gardenvale open igroup: Ring Peter L: 0407 196 669. Meets every 2nd week on Thursdays at Gardenvale Road, Gardenvale.
Fitzroy open igroup: Ring Demian 0468 309 863. Meets every 4 weeks on Tuesdays at George St, Fitzory, open to guests.
Eastern open igroup: Ring Simon on 0497 975 305. Meets every 2 weeks on Wednesdays at Burrinja Cultural Centre, Glenfern Rd, Upwey.
Mornington closed, but open to guests by request: Ring Chris 0400-614065  or Andrew 0412-586931 meets every 2 weeks on Wednesdays
Coburg closed, but open to guests by request: Ring Tim: 0409 007 396. Meets every 2 weeks on Wednesdays.
DATES 2018
| | | | |
| --- | --- | --- | --- |
| Fitzroy Kulin open igroup | Eastern open group | Coburg igroup | Gardenvale open igroup |
| | Wed 17/Jan/2018 | | Thu 11/Jan/2018 |
| Tue 23/Jan/2018 | Wed 31/Jan/2018 | Wed 17/Jan/2018 | Thu 25/Jan/2018 |
| | Wed 14/Feb/2018 | Wed 31/Jan/2018 | Thu 08/Feb/2018 |
| Tue 20/Feb/2018 | Wed 28/Feb/2018 | Wed 14/Feb/2018 | Thu 22/Feb/2018 |
| | Wed 14/Mar/2018 | Wed 28/Feb/2018 | Thu 08/Mar/2018 |
| Tue 20/Mar/2018 | Wed 28/Mar/2018 | Wed 14/Mar/2018 | Thu 22/Mar/2018 |
| | Wed 11/Apr/2018 | Wed 28/Mar/2018 | Thu 05/Apr/2018 |
| Tue 17 Apr | 25 April | Wed 11/Apr/2018 | 19 April |
| | Wed 09/May/2018 | Wed 25/Apr/2018 | Thu 03/May/2018 |
| Tue 15/May/2018 | Wed 23/May/2018 | Wed 09/May/2018 | Thu 17/May/2018 |
| | Wed 06/Jun/2018 | Wed 23/May/2018 | Thu 31/May/2018 |
| Tue 12/Jun/2018 | Wed 20/Jun/2018 | Wed 06/Jun/2018 | Thu 14/Jun/2018 |
| | Wed 04/Jul/2018 | Wed 20/Jun/2018 | Thu 28/Jun/2018 |
| Tue 10/Jul/2018 | Wed 18/Jul/2018 | Wed 04/Jul/2018 | Thu 12/Jul/2018 |
| | Wed 01/Aug/2018 | Wed 18/Jul/2018 | Thu 26/Jul/2018 |
| Tue 07/Aug/2018 | | Wed 01/Aug/2018 | Thu 09/Aug/2018 |
| | Wed 29/Aug/2018 | | Thu 23/Aug/2018 |
| Tue 04/Sep/2018 | Wed 12/Sep/2018 | Wed 29/Aug/2018 | Thu 06/Sep/2018 |
| | Wed 26/Sep/2018 | Wed 12/Sep/2018 | Thu 20/Sep/2018 |
| Tue 02/Oct/2018 | Wed 10/Oct/2018 | Wed 26/Sep/2018 | Thu 04/Oct/2018 |
| | Wed 24/Oct/2018 | Wed 10/Oct/2018 | Thu 18/Oct/2018 |
| Tue 30/Oct/2018 | Wed 07/Nov/2018 | Wed 24/Oct/2018 | Thu 01/Nov/2018 |
| | Wed 21/Nov/2018 | Wed 07/Nov/2018 | Thu 15/Nov/2018 |
| Tue 27/Nov/2018 | Wed 05/Dec/2018 | Wed 21/Nov/2018 | Thu 29/Nov/2018 |
| | Wed 19/Dec/2018 | Wed 05/Dec/2018 | Thu 13/Dec/2018 |